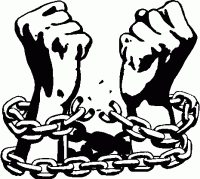 After some demands from our blog which we created to widespread the solidarity with 15 comrades after 1 May operations, we prepared "Frequently Asked Questions" section. In this section, we attempted to give practical and accurate answers to the questions of those who would like to act with solidarity with imprisoned anarchists. We will try to satisfy all the questions in your minds, and this section is going to be updated consistently. We hope this will help…
1. What is the address and method to send a letter to my imprisoned friend?
Answer: Metris 1 Nolu T Tipi Kapalı Ceza İnfaz Kurumu – Eski Edirne Asfaltı üzeri Beşyüzevler 34200 Esenler-İstanbul A-7 koğuşu. You must write the name of the one whom you would like to send the letter. We recommend to use APS service of PTT. Otherwise it may take 2 weeks to arrive. If you put an extra post stamp in the envelope, the receiver will
be free of charge to send a letter back. All the letters you or they write are being read by the prison administrators. It's better not to write special things.
2. May I bring books to my imprisoned friend?
Answer: You can bring books (except banned publications) in visiting hours. Besides you can send books by PTT cargo. The books must not be confiscated by law and must have title. You can also send magazines, newspapers regarding the same issues. Consider that there must not be any handwriting on the pages of the books. Otherwise they are torn.
3. How can I send money to my imprisoned friend?
Answer: You can directly contact with the family or visitors of your imprisoned anarchist friend, or you can contact by the email adres 1mayistutsaklariyladayanisma@gmail.com, or you can donate to the bank account which we will announce soon. The money is invested to the prison office in visiting hours.
4. Can I send clothes to my friend?
Answer: You can send (except navy blue and green colored ones) by PTT cargo. Besides you can give while visiting hours.
5. Who can attend closed visit?
Answer: Only 3 people except the family of the prisoner who are notified to the administrators can visit them.
6. Who can attend open visit?
Answer: Open visit is 2 times a month. Those who can attend closed visit also can attend open visit. You can hug your friend. You can speak to the other people even if you are the visitor of only one person. There will only be a table among you.
7. When is the visiting hours?
Answer: Every thursday between 2-3 pm. (because of official processes, it's better to go half an hour earlier.)
8. Can I bring food or drink to my friend?
Answer: Unfortunately it's forbidden to bring food or drink.
9. How long can I talk to my friend?
Answer: Not less than half an hour, no more than an hour.
10. Who can call them with telephone?
Answer: Only their family and relatives who provide the necessary documents. You can only call the notified numbers.